When I last wrote about my home building journey I was still in limbo at City Hall.  I am happy to report that I have my permits in hand and I am building my new home!  My permits, all 8 of them (more on that later) were issued on October 5, 2015.
If you recall from previous posts, I made my first attempt to submit my plans on April 24, 2015 after I had managed to dissect the new 2015 building code requirements, obtain laneway house approval, get arborists reports, meet all of the published checklist requirements, go back and meet the unpublished checklist requirements and wait the 3 weeks for engineering services to sign off and put some paint on the sidewalk.
So, basically, it took me 6 months from start to finish with the city if you don't count the preliminary negotiation, and 9 months if you do.
Let me be very clear on this, because it is the number one question I get from people about building my house.
Questions: How long does it take to get permits?
Answer: 6 to 9 months
Before my permits were issued there were some last minute negotiations and hoops I had to jump through, which left me so frustrated I basically stopped blogging for fear of pounding my keyboard so hard as to break it.
You will recall from my last post that my project coordinator disappeared in the middle of my application process and my inquiry email received a bounce back.  After about 2 weeks of sorting out who my new project coordinator was, Antonio (MY designer) and I were put in touch with Dallas.  His title is Project Coordinator 1.  The 17 deficiencies listed were remedied or disputed by Antonio and sent back for approval.
One of the deficiencies required the Engineering Department to sign off again.  So, Antonio made another totally unnecessary trip to City Hall and after another in-person visit to carry documents ourselves 2 buildings over to Engineering to have them sign off on plans (because planning DOESN'T TALK TO ENGINEERING), we sent everything over to Dallas on September 14.
On September 18, this email arrived:
From: "Dallas Arcangel"
To: "ANTONIO EDWIN RIGOR"
Sent: Friday, September 18, 2015 9:43:48 AM
Subject: RE: 242 E 39th Ave – Deficiency review – DBXXXXXX
Hi Antonio,
I will be reviewing the revised plans next week some time and will respond to you on the status of my review.  However, the staff member that issues the permits, Bryan Daly, is backlogged about 2 weeks.  
I've reviewed the related activities with this file and see that the Tree Barriers have yet to be done, so you or the contractor can address this item in the meantime.  Please note that these have to be inspected by the Building Inspector and receive sign-off and the card/approval has to be provided as proof.
I trust that this provides the feedback you needed,
Dallas Arcangel
Project Coordinator 1
Development & Building Services
Housing Review Branch
t: 604-871-6714
There are two things that are particularly shocking about this email:
1. The city telling me the tree barriers had not been done.  In fact, I had them built in July and the city inspector came and signed off.  But, given the pure dysfunction and non-accountability at City Hall, nobody actually reported in that my barrier had been built.  Instead, a small card was left on my front door that just said "Tree barrier Approved".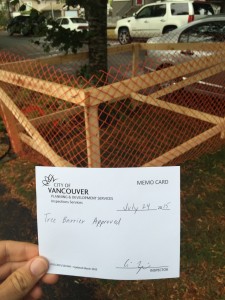 2. The second part of this email that REALLY frustrated me is the last minute addition of another level of approval.  WHAT?!?!?!  How is it that my project coordinator is not the last person to approve my plans?  We were SO close and then…….HA HA HA……another door!  It's like the worst maze ever!
That's right. My project coordinator can't sign off on my plans.  That is yet another person – Brian Daly.  And to make matters worse, he is "backlogged another 2 weeks"
Let's pause for a second and reflect on some things I've learned:
Being a Tree Barrier Inspector at the City of Vancouver is my new dream job.  Consider this….The inspector probably has a pretty decent wage, a solid pension plan, great benefits, job security and a reasonably good employer, that being the City of Vancouver.  When you show up to work on Monday morning, you get to hop into a City of Vancouver vehicle and take a trip around one of the most beautiful cities in the world and visit individual neighbourhoods.  Your only tools are a measuring tape, a stack of note cards and a pen.  When you arrive at a house, you don't actually have to talk to anybody.  If its raining, you might not even have to get out of your car if you can tell the barrier is not up to standard.  Sometimes, you have to get out of your car, measure some orange fencing held up with 2 x 4s and then write 3 words on a small note card: "Tree Barrier Approved", date it, sign it and stuff it in a mailbox or slip it in a door.
Given that Dallas didn't have my approval on file, its clear that the Tree Barrier Inspector isn't actually accountable for their inspections and they obviously don't have to report back to anyone that they inspected an actual tree barrier, nor do they log it into some sort of computer system that shares the information with the people in the planning department who actually need it for permit approvals.  No, none of this happens.
Instead, 2 months after the inspection is done, the consumer has to send a photo of the note card back to the planning department so they can sign off on the permits.
Where do I apply for that job!?!?!
The second thing I learned is that buck passing reigns supreme at City Hall.  When it comes to permit issuance, I understand the need for different people attending to different parts of the process and I understand a hierarchy of approvals to provide checks and balances.  What I don't understand is why my project coordinator wouldn't have the authority to approve my plans and has to pass the plans off to the ONE PERSON AT CITY HALL who approves the plans and has the exact same job title as the person who told me they can't approve my plans.  This is the ultimate in passing the buck and ensures that there continues to be NO ACCOUNTABILITY at City Hall.
On September 22, 2015 Dallas sent this email:
On Sep 22, 2015, at 11:31 AM, Arcangel, Dallas wrote:
Hi Antonio,
 
I've finished checking and preparing the plans.  I've added some information to the plans manually which you'll have to initial upon issuance.
MAIN HSE:          1. The secondary height on elevation page, 2. Grades in red on the site plan.
LWH:                     1. Grade notations on site plan.
 
I'm forwarding the plans to my co-worker, Bryan Daly, who will issue them.  So, you will have to co-ordinate with him the timing of issuance.
 
Thank you for your patience & assistance to move this file along!
Dallas Arcangel
Project Coordinator 1
Development & Building Services
Housing Review Branch
A few more emails back and forth and my permits were ready pick up on October 5.
Antonio and I went in early in the morning to get our permits and Dallas came down from the tower carrying 8 inches of folded plans, papers and permits in the coveted City of Vancouver emblazoned plastic envelopes.  It was like an angel was walking towards me holding my hopes and dreams in their hands.  "Here are your permits, but before I issue them you need to go and pay", he said.  "Please take this receipt and go to that counter, then, the other counter and then over to engineering services and come back here and I will give you your permits."
OK…….3 counters?
The first counter was planning services and I paid $10,299.65 by cash or cheque to the City of Vancouver for the development cost levies for the house and laneway.  I paid by cheque because I just didn't have enough cash on me at the time.
As the woman was doing my transaction, I asked why I had to do multiple transactions at multiple counters for the same project and she informed me it was because they are all different departments.  I replied that they were all City of Vancouver transactions, but this got me nowhere.
At the second counter (City of Vancouver Trades and Permits) I had to pay $8944.40 by cheque or credit card.  I opted for the credit card so I could collect the points.  I am going to need a vacation after this process for sure!
After paying, the clerk informed me that I had one more bill to pay and I needed to exit the building, walk 2 blocks, enter another building and go to the 4th floor and make a final payment.  Once again, I had to take the trip to Engineering Services because nobody talks to them from the planning department.  Again, I had the option of cheque or credit card.  I pulled out my card, prayed it didn't melt, and signed off on another $17,062.75 for Engineering Services.
Development and building permit – House $1477.00
Development and building permit – Laneway $2676.65
Tree removal and replacement permit $251
Demolition and building permit $4539.65
Street use permit 2320.75
Public Sewer and Water Connection Permit $14742.00
Development Cost Levy For House $1890.03
Development Cost Levy for Laneway House $8409.62
$36,306.80 in fees.  3 separate transactions.  2 forms payment. And my permits were issued!  
Let the building begin!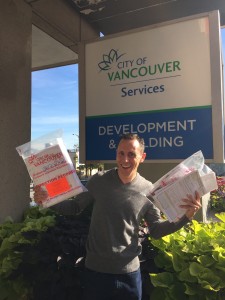 **In my next post I will share the delays getting the demolition contractor to show up, and explain how we have gotten to the point of framing.