On April 29, 2015 I was out of town, so my architect Antonio went to City Hall where my permits were accepted for in-take, after having been rejected the previous week for not meeting all the necessary requirements laid out on the internal checklist that is unavailable to the public.  (See previous post here)
I was told my review would happen on July 20 and I went away thinking, "thats not too bad."  I can have my house torn down and shovels in the ground before September.
Guess how that is working out??
Almost immediately I was impressed with the speed at the City – not the results – just the speed.
Two weeks after my application was taken, I received a letter from the city with a copy of a covenant I had to sign that the city would register against my property. The covenant says that I promise to never subdivide my laneway house from main house – even if the city allows it in the future.  I couldn't find any notice of this on the website and wrote about it being another tax in my previous posts.  It cost me $85 to register the document, in addition to the $50 I had to pay to get it notarized.
But, I was pleased with the progress and knowing that the city had my documents in the cue.
The 3rd week after intake, I got a phone call from someone at the city telling me that my addresses had been assigned for the 3 residences (House, Laneway and Basement Suite).  Now I was really excited…..could this actually be going according to plan?
Then, on June 29 (2 months later) things started to go downhill for me.
I received this email:
Hello,
The Hazardous Materials Report submitted with this application indicates further investigation is required to complete the assessment. The final report is due prior to permit issuance. If you have the final version, please submit by email for review.
Regards,
Rosalie Budau, B.Sc.
Environmental Protection Officer, Environmental Contamination Team
City of Vancouver
Mail: 453 West 12th Avenue, Vancouver, BC V5Y 1V4
Site Office: #300 – 515 West 10th Avenue, Vancouver, BC
Phone: 604-873-7732
Email: rosalie.budau@vancouver.ca
The problem here is that the additional investigation required is rather invasive to the house.  If I had known permits were going to take so long, I would have rented the house out to recover some of my costs – like the full property taxes I am paying for a house that consumes no water and produces no garbage.  Or the interest cost of the giant loan I have.
However, I was happy with the speed at which things were moving so I went ahead with the 2nd hazardous materials test which required pulling up linoluem and drilling holes in the wall – making it basically un-livable.  And, because I had decided to do the testing in 2 phases, it cost an additional $200 in testing and labour.
At this point, Asbestos has been agitated, there were holes in the walls and the floors were ripped up.  The house was un-livable.
After submitting the report on July 6 the environmental review for my project was cleared Rosalie at the City of Vancouver.
Everything was shaping up nicely for my July 20 review.
Trying to be patient, I waited until July 10 before phoning to find out where my permits were at in the process.  I didn't want be pushy so I phoned the enquiry centre at the City of Vancouver.  I asked them if they could track my progress and they asked for my permit number.  I said I didn't have one but could give them my address.  They told me they don't track it until it has a permit number.
What?
How do you know where in the process my house is if you don't track it prior to me getting a permit issued.  No wonder nothing ever gets improved.  They don't actually track this stuff.
And then I asked the key question that every potential home owner wants to know:
How long does it take for my permit to be issued?
Answer: 6 Months!
Again, WHAT?!?!
When I submitted in April I was told July 20 — just 3 months from my date of application.  Now the inquiry centre was doubling that timeline.  (and in the process doubling my costs!)
Wanting to know the real story, I went to the one person I knew could answer my question.
The supervisor of the planning department is a delightful woman who is arguably the most responsive person at the City.  I don't want to email her for everything, but she is the only person who can get answers. I think of her email account as the "Bat Phone" at the Planning Department at City Hall.  It gets things done.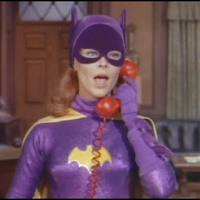 This may or may not be a picture of Sonia at City Hall.
On Friday July 10 at 10:26am I sent this email to Sonia:
Hi Sonia,
Sorry to bother you, but yours is the only name I keep getting (from enquiry centre, planners, etc).
I am trying to mitigate some of my risk of owning a vacant home (media reports) and plan a summer vacation and would like a clearer picture of when I can expect my permits.  
When I first called in the spring, I was told it was about 2 months.  When I was accepted at intake from a plan checker in late April, I was told it would be mid-July (2.5 – 3 months) and when I phoned the enquiry centre today to check on my progress I was told it would be 6 months from when I dropped it off.
I hope you can shed some light on the process for me and where I'm at.
Thanks!  
Keith Roy
I also sent this email to my project co-ordinator on Friday July 10 at 10:59am
Hi Ryan,
 
I am wondering if I can get an update on my permits.  With all the talk in the media about people owning vacant homes I am starting to feel guilty for the uninhabitable house I own that I can't do anything about.  Hoping to get a sense of when I can expect to start. (The enquiry centre told me 6 months – which seems absurd to me, based on all previous conversations)
 
Thanks!
My response came promptly on Monday July 13 at 2:11pm
Keith,
 
Your plan review was originally scheduled to be done July 20th, however due to the volume of permit applications we're behind schedule by approx. 4 weeks. 
We have been doing overtime and xtra work to catch up, so I expect to get your plan check earlier than Aug 20th, I just cant give you a firm date at this time. You can expect to hear from me in August as soon as the plan review is complete. Your plans are still being held in priority order.
 
 
Regards,
 
Ryan Johnson
Project Coordinator 
City of Vancouver – Planning & Development Services
515 W 10th av, Vancouver V5Z 4A8
wk.  604-871-6091
fax 604-871-6489
Did you see that last sentence?  Your plans are being held in priority order.  
I scoured the City of Vancouver website to find out what priority order is and found nothing.  Because ITS NOT A THING!
My plans are actually just sitting there…not being worked on.
So, it looked like I was going to wait another month, which was still not the end of the world.  I could still have the review by August 20 and start digging in early September.
On July 17, this email arrived:
Hello,
I have received your project for review and have cleared the main house DBXXXXXX.
The cleared and stamped drawings have been returned to Ryan Johnson for his review and coordination.
The Lane Way House application  DBXXXXX has been put on hold. There are several items missing from the site plan and the details for the fence, location of the garbage and recycling and detail of that structure need to be prepared. I will talk with the PC and write you a separate email about the outstanding items to be revised.
Please find attached the tree protection barrier sheets for the construction of the barriers.
These must be built, inspected and approved prior to the issuance of the demo or building permits.
A tree removal permit has been prepared for the removal of the standing stump and the other tree. TR 4XXXXX has a fee of $251.00 owing.
The TR can be paid for at the same time as the other permits. It can't be issued separately and the trees must remain until you have this permit in place and it must be posted visible from the street on the day the tree and standing stump is to be removed. Two Part one schedule d replacement trees are required for this Tree removal permit plus one part two schedule d tree for the lane way house.
The trees must be a minimum 6 cm caliper or in some cases 3.5 meters in height depending on what has been selected.
Thank you,
Kate
Kate Rourke  BA, BLA, MBCSLA
Landscape Development Specialist
Planning & Development Services
Enquiry Centre
tel:  604- 873 – 7457
fax: 604- 871 – 6489
email:  kate.rourke@vancouver.ca
City of Vancouver
Planning & Development Services
515 West 10th Avenue
Vancouver, British Columbia
Canada
So, in 4 days I went from "priority order" to "on hold".  Awesome.
The issue of laneway house landscaping is a tricky one.  There is no clear explanation in the application documents and none of the landscape architects I called off the list the City gave me knew anything about laneway landscape requirements. There were all, however, very willing to take my money and charge me while they learned the process.  So, we just went off what the application documents said and hoped for the best.  I am sure we will be able to work out a plan for the laneway landscaping without the assistance (or added cost) of an unexperienced landscape architect.
We went ahead and built the tree barrier as prescribed by the city and then submitted our results. Someone  was dispatched to the property to inspect and left a hand written note on a City of Vancouver card at the door saying APPROVED!
At this time, there was still hope that my house could be permitted prior to August 20, as promised in the project coordinators email.
"Impossible" you say?  There is no way he can would get his permits before August 20th.
Well, guess what?  You're right.  I still don't have them.
But, I did find out what "priority order" is.
After the August 20 date came and went, I exercised restraint and waited before inquiring on progress.
On September 1, I sent this email:
From: Keith Roy <homes@keithroy.com>
Subject: Re: 242 E. 39th Ave
Date: September 1, 2015 at 3:08:43 PM PDT
To: "Johnson, Ryan" <Ryan.Johnson@vancouver.ca>
Hi Ryan,
Wondering how things are progressing with my plans at the City?  I heard from landscaping that my tree removal permit was approved, but I couldn't do anything until the rest of it was sorted.
Last I heard we were expecting a response Pre-August 20.  Looking forward to getting started!
Keith Roy
And this was my response: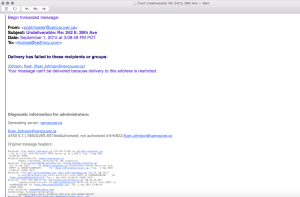 Yes that is bounce back from my project coordinator.  Delivery has failed.  No notice was sent out.  No indication that Ryan was moving departments or leaving the city. And certainly no indication of who is responsible for my project now.
Priority order actually means, "I'm leaving the City".
I phoned the number at the bottom of the email and a woman answered the phone.
Keith: Hello, is Ryan Johnson there please?
CoV: I'm sorry, he's left the city.
Keith: Oh, do you know who is looking after his files?
CoV: No, I'm new here.  I'll have to ask the supervisor.  What is the address?
Keith: (I gave her the address) Is Sonia the supervisor?
CoV: Yes.
Keith: I'll ask her.  Thank you for your time.
I forwarded Sonia the bounce back email and asked who was in charge now.  Later in the day, I got this email.
Hi Keith,
 
I have your application sitting here on my desk and the review has been completed.  There are a series of deficiencies that need to be corrected prior to issuance.  I will forward the application to an available PC who will notify you before the end of the week regarding the list of outstanding items.
 
Thanks,
Sonia
Again, the bat phone got things done!  In my experience Sonia is the most responsive and capable person at City Hall.
As promised, later in the week a project coordinator sent me a list of deficiencies that we needed to rectify prior to permit issuance.
Just to give you a taste of the type of requirements the new building code has I want to share some of the list of items provided by the city:
Hi Keith,
 
Your file has been passed onto me so that I may forward the outstanding deficiencies to you.  The deficiencies that have been noted, from a fellow colleague, are as noted:
 
1.       On the site plan, setbacks are to be noted to the cladding and to the foundation on each of the 4 sides for both the main house and the laneway house.  Please ensure dimensioning on the floor plans reflect these dimensions accordingly,
2.       Because the rear porch is covered, it is included in overall building depth.  The roof can be deleted in order to retain this deck, otherwise, it will be included in building depth and exceed the allowable maximum,
3.       Bay windows are not acceptable as shown.  A min 18" projection is required and the projection cannot start from the adjacent wall; the window must be set back a min of 18" from the corner of the adjacent wall – typical.
4.       The side door to the basement/storage at the front right is not permitted and must be removed,
5.       As per section 4.4.1.(d) of the RS-1 Zoning regulations, the front porch allowable projection of max 1.2m into the required front yard is permitted providedsubject to the covered porch being limited to 30% of the building width (max 6.90').  The reduced portion that projects 2'-9", as shown, is not acceptable,
6.       The above grade FSR has been exceeded by 30.43 sf and needs to be reduced,
7.       The existing grades must be maintained at all house corners,
8.       Note the slab height on the elevations,
9.       Note the T.O.C. heights on the elevations,
10.   Note the window sizes on the elevations,
11.   Note the 2nd floor envelope height on the elevations (noting the critical height),
12.   Reduce the upper floor ceiling height to under 12',
13.   Reduce the overhangs to a max 1'-9",
14.   Note the door sizes on the floor plans.  Note that all interior doors are required to be a min 2'-10" except for closets and all exterior doors are required to be a min of 3'-0",
15.   Reduce the impervious area; it is 88.80 sf over,
16.   Note the grades where the front yard/rear yard setbacks meet the side property lines,
17.   Reduce the peak height, as it is over by 10".
I would comment on this list but I really have NO IDEA what most of it means.  Antonio will spend a few hours editing the plans to make sure they comply.  There are other deficiencies that we will have to rectify on the Laneway House as well.
I am hoping we are almost ready to go and can have shovels in the ground by the end of September.
I want to make a few more notes on some items that you should watch out for while you are dreaming about your new house:
Deck space
The amount of deck space allowed on houses in Vancouver is very limited.  Don't plan on having a great deck.  And certainly don't plan on covering it. Any deck space that is covered will go against your inside living square footage allowance.
Vaulted Ceilings
Any ceiling that is vaulted over 10 feet starts to count against 2 times as much square footage.  Even if you have an exterior peak that goes over 10ft and all you want to do is make the interior ceiling line up with the roof line, the extra space will be counted against your living area.  Tame you vision and crush your dreams.
As for my new house, I hope to update you in the next two weeks about our progress with deficiencies and permits.