Dealing with the City of Vancouver Permit Process Part 2
When I last wrote of my interactions with the City of Vancouver I had just finished getting my pre-permit approvals for sewer and water.  This process required that I visit City Hall, drop off 3 copies of my survey, submit my email address and wait 3 – 4 weeks for a response.  This process can not be done concurrently with my building permit application, it must be done consecutively.
Basically, the City is admitting that Building and Planning Services are not talking to Engineering Services.  In fact, when I asked how I would know I could proceed, Engineering Services told me I would receive an email with the information that I needed, which I could then print off and submit to Building and Planning with my building permit application.
Thinking rationally, I asked the obvious question: "Why can't you send this directly to Building and Planning?"
Answer: "That's a different department.  We don't have anything to do with them."
OF COURSE YOU DON'T!
Anyways, as promised my pre-permit engineering approvals arrived about 15 business days later and I included them in my building permit application documents.
After reviewing our permit application list VERY CAREFULLY  and making sure we had everything we needed from the 4 page checklist, my designer and I went to City Hall to submit our plans.
In the past, you used to be able to get an appointment at City Hall to submit your building plans, but it was rife with delays and abuse.  The City Manager hired a group of very expensive management consultants from KPMG to review the systems and improve efficiencies.  Based on my timelines and experience thus far it appears tax payers have been ripped off.
Now, the system works on a first come, first serve basis.
So, on Friday April 24 I was the first in line at City Hall at 7am.  When I told people I was going for 7am, they thought it was crazy.  When the second person arrived at 7:15am, I felt that I had done the right thing.  At 8:30am over 25 people were lined up when the door opened and I went to the counter to get my number.  NUMBER 1!  I thought for sure this was my lucky day.
Designer Antonio and I sat in the waiting room for our number to be called.  After 15 minutes, I went back to the counter to find out what was happening.  It turns out plan checking doesn't open until 9am.  Everything else seems to open at 8:30am with the front desk.  My suspicion is that it closes at the same time as everyone else, but I have never been there at the end of the day.
We sat down with the plan checker who immediately told us we were missing engineering documents.  We weren't.  They were just in a format he was unfamiliar with.  An argument ensued, the engineer was called and we were right.
Then the in-take plan checker told us that our plan wouldn't work because we didn't have a shower in our bathroom on the main floor.
At this point, I almost went ballistic.
If you recall from previous posts, I have had multiple meetings with the City about their new washroom requirement and confirmed that a shower isn't necessary under the new code.  This plan checker told me it was.  I argued more, another person was called in and the conversation ended with me telling them to tell their superiors to get their acts together and put some training in place.  These are peoples lives and livelihoods they are affecting.  (As an example, if they force a full washroom on the main floor of the home, it will increase building costs by $3000 – $5000, reduce resale value because of the terrible floorplan and require even further plan changes before permits are granted.)
We went though all sorts of nonsense with the plan checker including the width of walk ways, the non-permeable ground cover, construction detail, energy audit requirements, botanical names of all landscaping, exterior insulation measurements, skylight allowances, solar panel locations and deck sizes.
I could re-iterate the entire building code and point out craziness everywhere, but I'll leave you with the comment that houses are really expensive to build because the City of Vancouver makes them more complicated than launching a space ship.
After about 45 minutes of various arguments the plan checker looked at us and effectively said, "OK, you are missing this, that, this and the other thing. Do that and come back."
WHAT? WAIT!  NO!  We have everything.  We have everything you are asking for on this 4 page checklist!
And then I looked at the piece of paper where he was making his notes.
"What is that", I asked.
"Oh, this is our internal checklist" he replied.
"Your what?"
"Our internal checklist."
That's right!  The City of Vancouver has an internal checklist for building permit applications that is different from the one on the website.  No wonder I was rejected.  I am not an insider.  I don't have the internal checklist.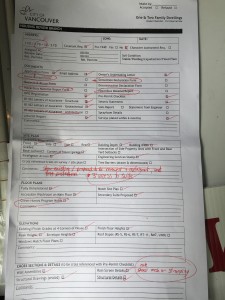 Internal Checklist – Top right corner says, "FOR INTERNAL USE ONLY"
"But we have everything from this other checklist", I protested.
"Read the bottom of the last page," he said.

"The above noted list of requirements is not limited in its content. Further review of the application documents may reveal additional requirements."
There it is.  You are trying to hit a moving target when applying for a permit at the City of Vancouver.
We left City Hall around 10:30am laughing at the insanity that has just occurred.  I had been there since 7am – 3.5 hours – and had really accomplished nothing.
We went back home and spent the next few days getting the additional stuff required that was not on the public checklist.
On Wednesday April 29 Antonio went back to City Hall and our permit was accepted for intake.  We were given a review date of July 20 – 24.  At which point there will likely be further changes required and additional delays and costs incurred.
If you add up the 3 weeks for pre-engineering and assume you get accepted for intake the first time (which from what I understand it virtually impossible) the absolute best case scenario is  about 100 days to get a building permit approved in the City of Vancouver.  My experience so far is that the planning and permitting process will take 6 – 8 months from design to demolition.
In the meantime I can't get started on demolition, I can't remove trees, I can't prep the site.  I own a vacant home that is uninhabitable.
I am the problem that the Mayor and the Vision Vancouver Council are talking about.  I am not a wealthy investor.  I don't have any "offshore" money.  I am a regular guy who was born in Vancouver.  I am the first member of my family to ever own a home in Vancouver.  And, I am spending about $4000 per month waiting for the City of Vancouver to allow me to build a new house.
I know the media is asking lots of questions right now about how to curb the high cost of housing in Vancouver.  I honestly believe the answer is  in the regulatory bureaucracy of City Hall
I have received two communications from the City of Vancouver since the application was received.  The first was another unknown tax.  The city requires that I have a covenant registered against my title saying that I will never sub-divide and sell my laneway house (which would actually go a long way to solving the housing crisis).  I had to get the documents notarized ($50) and then send the legal department a cheque for $85 so they could register the covenant on my title.
The second phone call informed me of my new addresses (3 of them) for the house, laneway and suite.
The good news is my file is slowing making its way through the process.  The bad news is, the amount I have to charge for rent to future tenants is going up every day I'm spending money for a house that doesn't even exist.